Fraser Range Project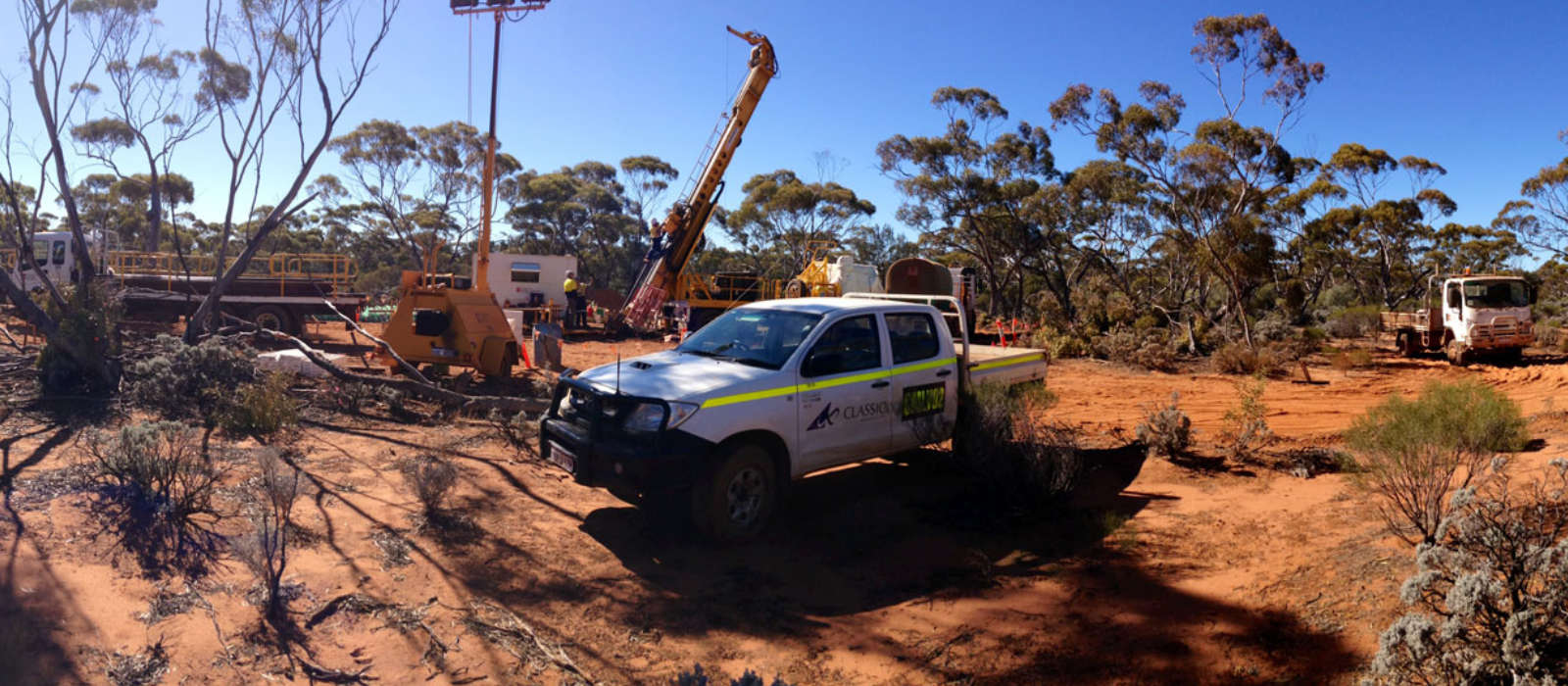 Classic's Fraser Range Project (E28/1904) is 40km to the north east of Sirius' Nova deposit on the Fraser-Albany Mobile Belt, 160 km east southeast of Kambalda and is of interpreted Proterozoic age. Classic holds a 28 km strike across 84 km². To date it has identified 19 conductors across the tenement and made two key discoveries.
Highlights
Classic also holds tenements in the world class Fraser Range province. These copper nickel tenements are currently under JV with Independence Group and form the Fraser Range Project.
Discovered Mammoth, a new target style of magmatic nickel-copper mineralisation on the Fraser Range
Discovered the Alpha Copper Deposit 3km to the south east of Mammoth.
Exploration is now also focused around a 6km long conductive target "hot zone" identified extending south east from Mammoth.
A total of 19 conductors already identified over Fraser Range tenement
Already completed 4 phases of drilling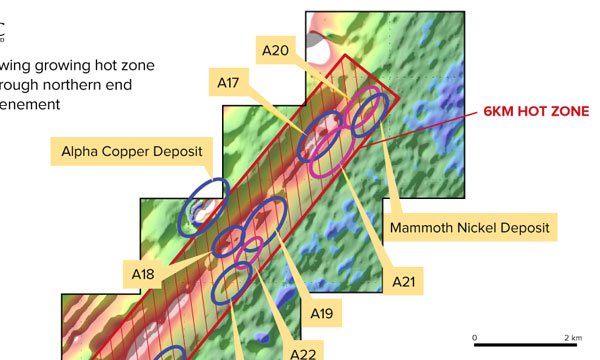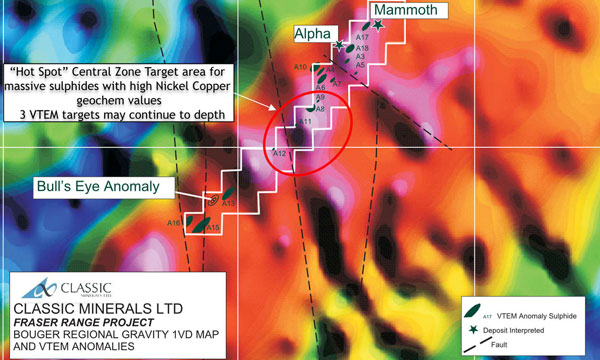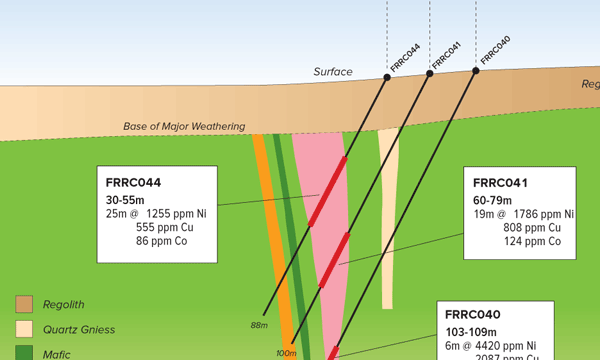 Results to date
Mammoth Nickel-Copper Discovery
Represents a new target style of magmatic nickel-copper mineralisation in the Fraser Range:

Intersecting thick zones of mixed sulphides, including visible nickel and copper sulphides
Disseminated, blebby, vein and semi-massive styles of sulphides
Thickness up to 23m thick downhole
Close to surface – from 25m to ~100m so far
Strongest intercepts to date include:

FRRC040; 2m @ 1.0% Ni from 106m
FRRC039; 1m @ 1.4% Cu from 42m; and
FRRC036; 5m @ 0.1% Co from 10m

DHEM and ground loop work has helped determine strike, depth extension and potential feeder structures at Mammoth
Conductor now drilled to over 240m in length and open
Mineralisation is sub vertical and plunges to the north east
Currently drill testing for strike and depth extensions
Mammoth may extend below 300m depth limit of geophysics used
Alpha Copper Deposit
Identified mineral zone over 500m long and over 100m wide
Discovery hole was 1m of 1.95% Cu from 104m
Dips NW, Plunges approx. 30 degrees NNE, remains open to north and east
Drilling intersecting up to 20% sulphides in some samples with zones up to 12m thick
Delivered excellent early Copper intercepts with highlights including:

1m of 1.95% Cu from 104m (FRRC001) (Discovery Hole)
1m of 1.04% Cu from 27m (FRRC016) within 5m at 0.47% Cu
5m thick zone of 0.57% Cu (FRRC013)
1m of 1.27% Cu from 36m (FRRC024) within 2m at 0.795 Cu

Thicker zones from 2m-8m of copper mineralisation from 0.2% Cu to 0.79% Cu occur through the deposit
Mineralisation in all holes with most intersecting pyrite chalcopyrite mineralization
Central Zone (Hot Spot)
Gravity image showing high gravity bouger anomalies (pink) under Classic's tenement
Remarkably these VTEM anomalies are situated within these high gravity bouger anomalies
These high gravity areas represent dense rocks such as gabbros, which has been pushed up from mid to deep crust
Deep EM search ready to commence over geochem targets (CENTRAL HOTSPOT) on gabbros with a view to detect deep EM conductors for follow up drilling
The three VTEM conductors located in the "Central Hotspot" may continue to depth, this could also host the very next MAJOR sulphide deposit in the Fraser Range
Consulting group Newexco Services pty ltd have now been appointed as the lead role in conjunction with Classic Minerals to design and implement the geophysical program over the Fraser Range project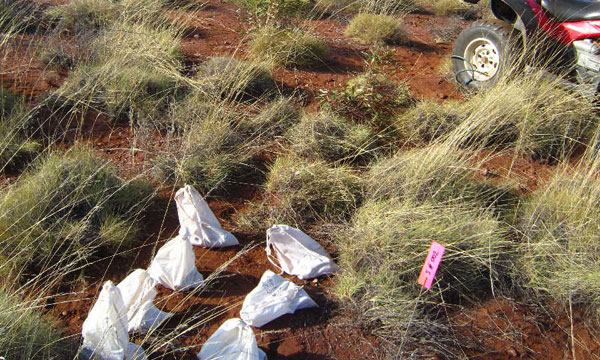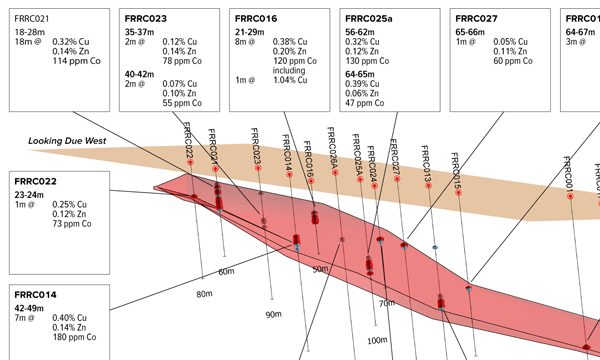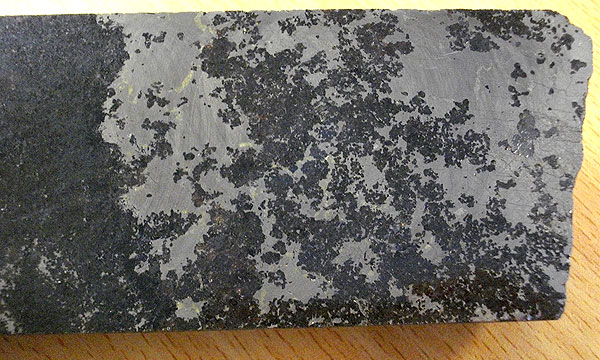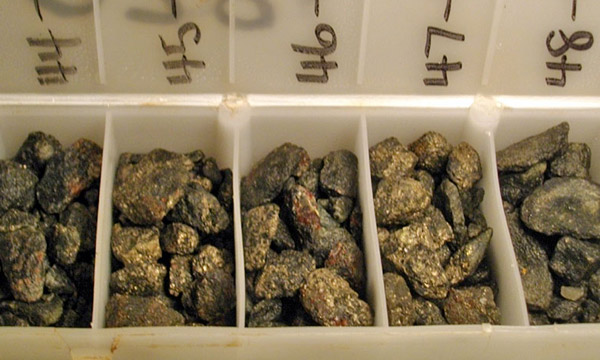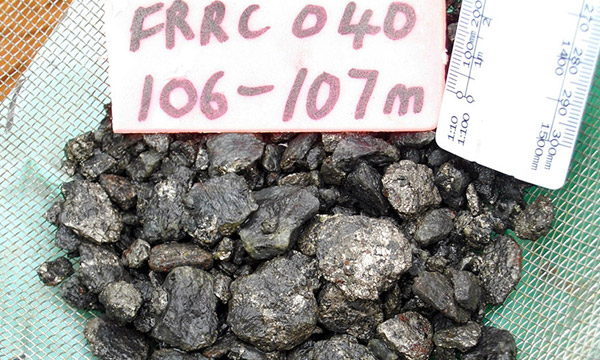 Background
Classic Fraser Range Project (E28/1904) is highly prospective for Copper, Nickel, Zinc and Gold and the Company has been driving an intense exploration program to accelerate its goals of discovery since IPO in May 2013.
In addition to the discoveries made so far, Classic has also been getting results across the tenement through earlier work showing:
Visible copper mineralisation in rock-chip samples.
Highly anomalous Copper, Nickel, Zinc and Gold in multiple targets; and
Outcropping manganese mineralisation with elevated cobalt at Ruby's Reward.
Access is via the Trans Australian railway access road to Zanthus, some 180km east along the railway line from Kalgoorlie and then 50km south along station tracks to the project area.